Rhino 1540 Blade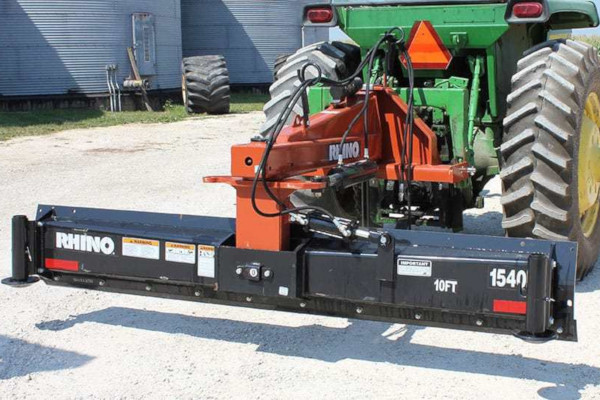 Double tap to zoom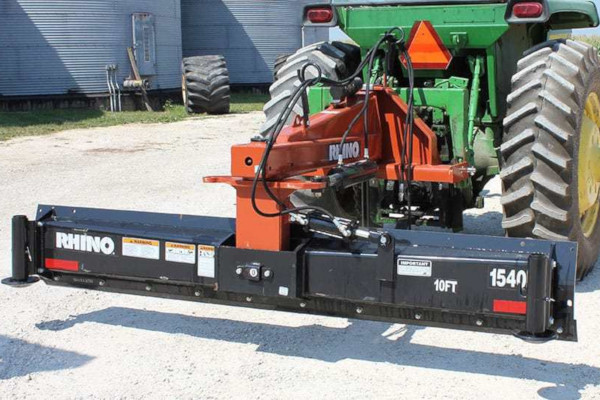 Features
Blades to handle all of your demanding jobs
Rhino® has been manufacturing the leading line of tractor mounted blades for over 50 years. A Rhino blade means Rugged Durability, Superior Craftsmanship, Innovative Design, and Outstanding Performance. Whether you need to dig a ditch, repair a terrace, maintain a road, remove snow, clean a feed lot, or prepare a level surface, there is a Rhino blade right for you.
Features include heavy-duty three-point hitches, reinforced mainframes, massive solid steel kingpins, precisely-formed moldboards, and mainframe swing, moldboard angle, and moldboard tilt adjustments for rugged durability and outstanding performance. The 850, 950 and 1540 blades are available with either manual or hydraulic adjustments to help fit a wide range of applications and needs. The 2500 and 3500 blades feature all hydraulic adjustments for greater operator convenience. Rhino blades - unequaled Selection, Quality, and Performance!
Heavy-Duty 3-Point Hitches
Solid Steel Kingpins
½" x 6" Replaceable Cutting Edge
Optional Skid Shoes
Optional Gauge Wheels and Skid Shoes
Specifications
Model
1540
Moldboard Width
8', 10'
Moldboard Dimension
1/2'' x 18''
Cutting Edge
½'' x 6''
Support Stand
Std
Hitch
CAT 2 & 3 / CAT 2 & 3 QH
Maximum HP (2WD)
8' - 190
10' - 160
Maximum HP (FWA)
8' - 162
10' - 136
Kingpin Diameter
4'' Solid Steel
Adjustment Types
Manual or Hydraulic
Offset (Max.)
37''
Pivot Forward
Up to 45°
Pivot Reverse
Up to 45°
Tilt- Up & Down
Up to 15°
No-Wrench Adjustments
26
Weight (Approx.)
8' - 1,712 Lbs.
10' - 1,880 Lbs.