Loftness Attachments 61G4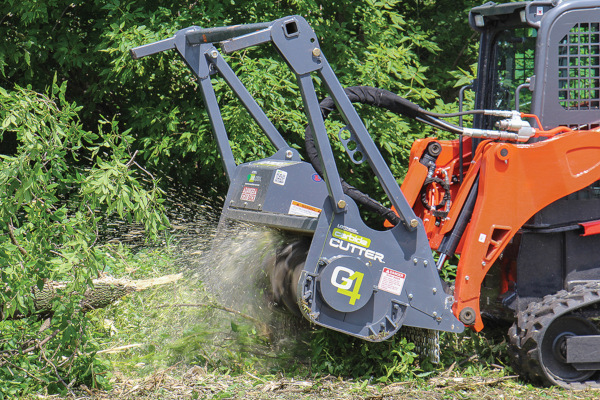 Double tap to zoom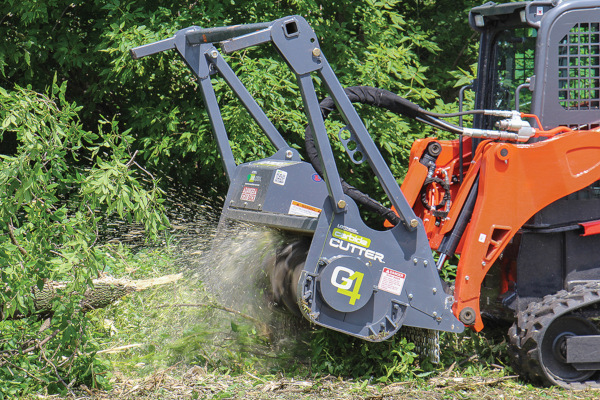 Features
Two-Stage Cutting Chamber
Material that enters the spinning rotor is forced through moving teeth and a new, adjustable primary shear bar, the clearance of which can be narrowed or widened depending upon the desired material size and production rate. This partially reduced material then passes smoothly to the secondary cutting chamber behind the front bumper, where it's processed further before being discharged toward the ground.
Synchronous Belt Drive
The positive drive, cog belt and sprocket design increase efficiency and require less maintenance than other drive types.
Adjustable Skid Shoes
Skid shoes on the G4 now adjust from 0.5 inches to minus 1.5 inches to allow for mulching below grade.
Machined Anti-Wrap Bearing Protector
The rotor ends are machine turned to mate with close tolerance, machined anti-wrap rings, resulting in minimal debris in the bearing chamber.
Adjustable Push Bar
Complete with welded claw hooks, this bar can push falling brush and trees away from the power unit, or pull them into position for proper feeding into the head.
New Staggered/Spiral Tooth Pattern
An improved staggered/spiral tooth pattern assures single-tooth contact with the work surface at all times, as well as optimal balance on the rotor.
Premium Strength Steel Housing
Body components are laser cut from premium strength steel to assure the utmost in rugged reliability. Abrasion resistant steel is used in high-wear areas.
Industrial Rotor Components
Spinning at 2,000-2,400 RPM, the G4's rotor is 17-inches in diameter with 2 3/16-inch bearings, and features robotically welded, forged steel knife holders.
Safety Elements
To keep flying debris at a minimum, steel deflector chains run the entire length of the attachment. A built-in hydraulic braking system quickly brings the rotor to a stop at shutdown.
Performance Monitoring
An on-board PSI gauge monitors the load on the hydraulic system, which enables the operator to get peak performance out of the G4 attachment.
Universal Skid Steer Mount
The G4 can attach to any skid steer thanks to a universal mount.
Increased Visibility
A lower profile improves visibility for the operator, thus increasing safety, productivity and efficiency.
Custom Hydraulic Control Valve
Incorporates a system high-pressure relief valve to protect from pressure spikes at the source. Also includes an anti-cavitation shutdown circuit.
Hydraulic Hose Routing
Improved on the G4 with shorter hoses that reduce the chance of binding, yet allow for full range of motion without damage. Hoses are included (no couplers).
Specifications
Model
61G4
Cutting Width
61" (1.55 m)
Overall Width
76.2" (1.94 m)
Number of Teeth
36
Weight with Variable-Displacement
Piston Motor (Parker)
2,453 LBS (1,112.6 kg)
Crated Weight
2,700 LBS (1,224.7 kg)
Auxiliary Hydraulic Flow (Up To 6,000 PSI)
33-37 GPM, 38-42 GPM,
or 43-45 GPM
Hydraulic Horsepower Range
50-120 Hydraulic HP
Specifications and data are subject to change without notice.