Worksaver FLGR-262 / SSGR-262 / FLGR-262-G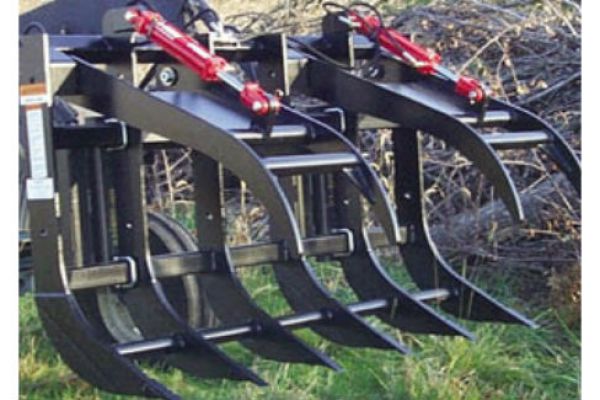 Double tap to zoom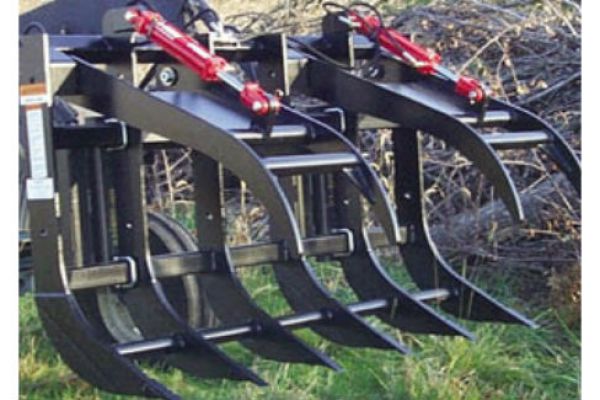 Features
Unique tine design with weld-on tine points.
Tine design allows operator to go under logs/brush for easy clean pick up.
Interfacing quick-attach brackets available for most tractor loader models including John Deere, AGCO, CNH, Bush Hog and others.
Greaseable pivot points on upper clamps for long service life.
Shield Plate in upper clamps provides protection for hydraulic cylinders.
Specifications
| | |
| --- | --- |
| Model | FLGR-262 / SSGR-262 / FLGR-262-G |
| Overall Width (in/mm) | 62 / 1575 |
| Overall Depth (in/mm) | 25 / 635 |
| Overall Height Closed (in/mm) | 54 / 1372 |
| Grapple Opening (in/mm) | 50 / 1270 |
| Upper Grapple Widths (in/mm) | 19.25 / 489 |
| Tine Spacing (in/mm) | 15 / 381 |
| Number of Tines/Grapples (lower/upper) | 5 / 4 |
| Reinforcing Tubes Between Lower Tines | Yes |
| Number of Hydraulic Cylinders | 2 |
| Cylinder Bore (in/mm) | 2 / 50.8 |
| Cylinder Stroke (in/mm) | 10 / 254 |
| Cylinder Rod Diameter (in/mm) | 1.125 / 28.57 |
| Cylinder Pressure Rating (psi/bar) | 3000 / 206.9 |
| Mounting for Tractor Loader (FLGR) | Mgt. Brt. Available* |
| Weight FLGR Model (lbs/kg) | 811 / 368 |
| Mounting for Skid Steer (SSGR) | "Universal" Skid Steer |
| Weight SSGR Model (lbs/kg) | 820 / 372 |
| Mounting for FLGR-G Models | Euro / Global |
| Weight FLGR-G Models (lbs/kg) | 827 / 375 |
| Horsepower Rating (maximum) | 95 PTO HP |
| Product No. FLGR Models (loader) | 811380 |
| Product No. SSGR Models (skid steer) | 811435 |
| Product No. FLGR-G Models (Euro/Global) | 811495 |