Worksaver SARG-72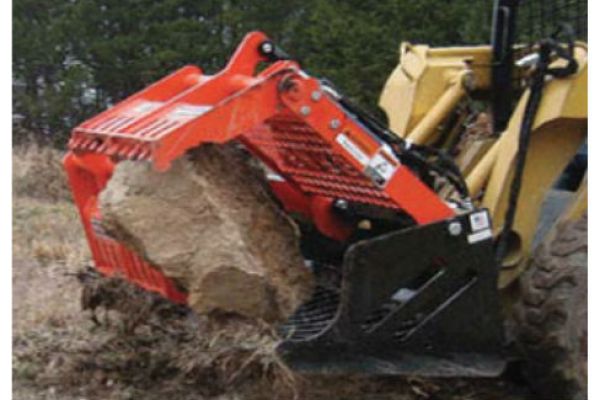 Double tap to zoom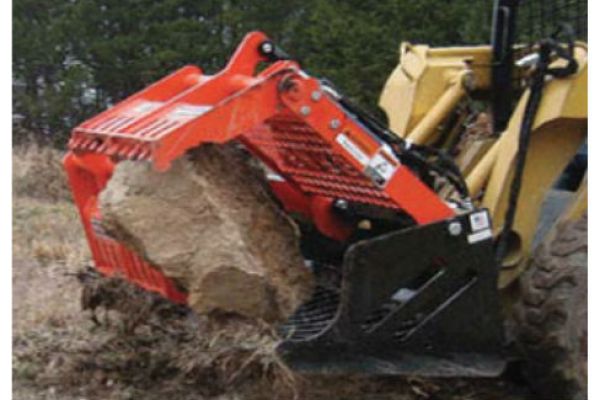 Features
The front hydraulically controlled grapples with their spring and hinge design operates with a sweeping action to pull rocks and debris into the unit. The springs hold the front sweep rakes open until the rear part of the grapple is down. Then the front rakes pull the material into the bucket. Grapple design retains the rocks or debris, allowing the operator to pivot the attachment to sift loose dirt out. Through the tube hose routing provides protection for the hoses, and flat-face couplers make hook up a breeze. Rocks, brush, logs, stumps, debris or scrap, the SARG handles them all.
Bolt-on side plates hold smaller rocks in the bucket. They can be removed from the bucket to allow the SARG to handle logs and stumps.
The SARG with its 66 degrees of sweep allows the operator to move rocks of varying sizes into the bucket. The sweep clamp operates like fingers moving material into and retaining it in the bucket.
Specifications
| | |
| --- | --- |
| Model | SARG-72 |
| Overall Width (in/mm) | 72 / 1829 |
| Bucket Depth (in/mm) | 34 / 864 |
| Upper Grapple Width (in/mm) | 34 / 864 |
| Length of Sweep Clamp (in/mm) | 21 / 533 |
| Degrees of Sweep | 66 |
| Grapple Opening (in/mm) | 45 / 1143 |
| Cylinder Size (in/mm) | 2 x 14 / 51 x 356 |
| Tine Diameter (in/mm) | 1.25 / 31.75 |
| Removable End Plates | Standard |
| Bolt On Cutting Edge | N/A |
| Mount Type | "Universal Skid Steer" |
| Weight (lbs/kg) | 1194 / 542 |
| Product No. | 812120 |