Worksaver SG-36A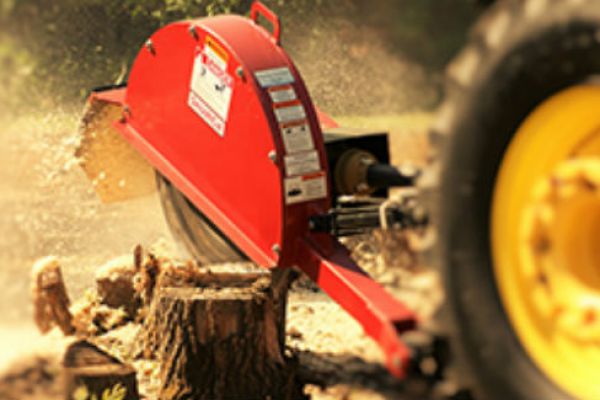 Double tap to zoom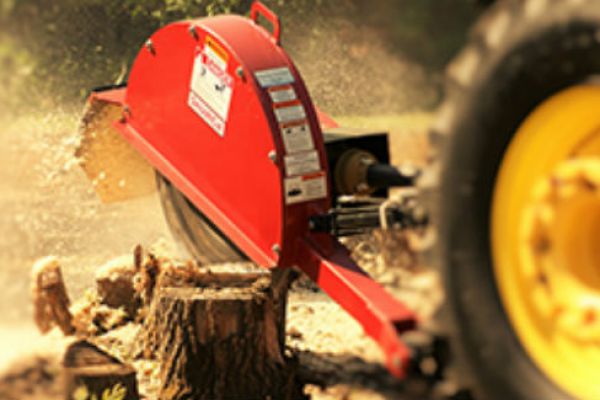 Features
Maneuverable - goes anywhere a tractor can; gets into tight places.
Increased productivity via it's unique cutting wheel design.
Cutting wheel design provides a smoother cutting action.
Easy to operate - hydraulic controls allow easy operation from the tractor seat using existing tractor hydraulic controls.
Durable carbide-tipped cutting teeth are economical and easy to replace.
Harden bushings used in major pivot points for increased reliability.
Grease zerks provided at major pivot points for extended service life.
SureFoot stabilizer bar provides secure footing during operation.
Rubber deflector helps control chips and debris during grinding.
Parking stand for easy storage.
Two pair of remote hydraulic outlets are required on the tractor to operate the stump grinder.
SG-26 designed for tractors 22 -50 PTO HP; SG-36 designed for tractors 45-100 PTO HP.
Standard pressure relief valve for even control of cutting feed rate.
Specifications
| | |
| --- | --- |
|  Model | SG-36A |
| Hitch | Cat. I/II |
| Overall Estimated Length (in/cm) | 80 / 230 |
| Drive System Protection | Slip Clutch |
| Gearbox Rating/Ratio | 100 HP / 1:1.46 |
| Cutting Wheel Construction | Welded 2-piece Laminated Steel |
| Cutting Wheel Thickness (in/cm) | 7/8 / 2.22 |
| Cutting Wheel Diameter (in/cm) | 36 / 91 |
| Cutting Wheel Speed | 788 RPM |
| @ 540 PTO RPM | 7,430 ft. / min. |
| Number of Teeth | 42 |
| Cutting Teeth Construction | Carbide Steel Bolt-In |
| Cut Height Above Ground (in/cm) | 18 / 46 |
| Cut Depth Below Ground (in/cm) | 15 / 38 |
| Maximum Horizontal Cut (in/cm) | 33 / 84 |
| Swing Arc | 45° |
| Minimum Power / Flow Required | 45-PTO HP |
| Maximum Power / Flow | 100-PTO HP |
| Driveline | PTO / Series 6 |
| PTO Speed | 540 RPM |
| Weight (lbs/kg) | 880 / 399 |
| Product No. | 812210 |