New Holland Workmaster 55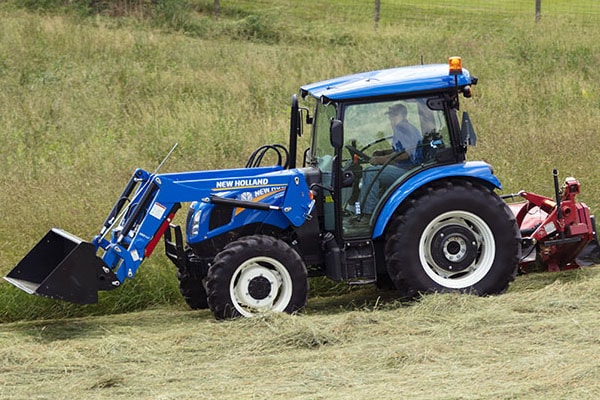 Double tap to zoom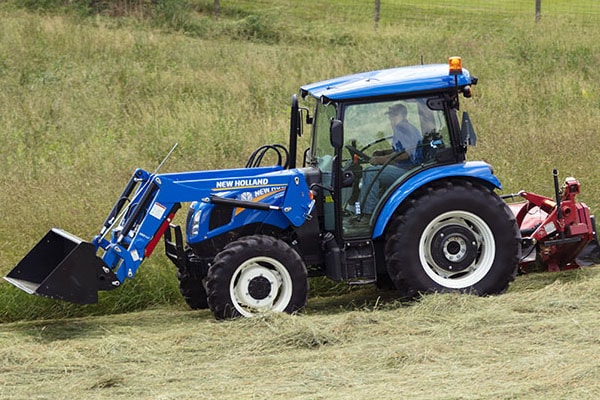 Features
MORE COMFORT AND MORE VALUE
The best-in-class WORKMASTER™ platforms allow you to operate with confidence by providing unmatched comfort, simplicity and visibility with a low cost of ownership.
EXCELLENT VISIBILITY
316 degrees of visibility ensure you see clearly during all operations.
INTEGRATED LOADERS FOR THE PERFECT FIT
Designed exclusively for the WORKMASTER these custom fit, factory installed loaders provide optimal visibility and performance.
RESPONSIVE, LOW-MAINTENANCE ENGINE
Powerful, compact engine deliver high torque with reduced maintenance costs.
ENGINE
COMPACT ENGINE, SIMPLE EMISSIONS, A BETTER VIEW
WORKMASTER 55, 65 and 75 utility tractors feature a compact 3-cylinder, 179-cu.in. engine. The emissions system is simple and requires no operator input. Tier 4B emissions are achieved with the use of a Diesel Oxidation Catalyst (DOC) and Exhaust Gas Recirculation (EGR) with NO Diesel Particulate Filter (DPF) and NO regeneration. The compact size of the engine doesn't require a bulky hood, providing you excellent visibility out over the front of the tractor.
HIGH PERFORMANCE AND EFFICIENCY
With four valves per cylinder, these engines help you make quick work of your chores by providing fast response in tough conditions. On top of that, you also save money with their impressive fuel efficiency.
ONGOING VALUE
Value should extend past the time of purchase. That's why the WORKMASTER 55 , 65, and 75 engines have low maintenance costs with a 600-hour oil change interval and a maintenance-free, DOC-only emissions system.
TRANSMISSION
MAXIMUM PRODUCTIVITY
The 12x12 power shuttle is the best option for customers looking for maximum productivity in a utility tractor, or for those who make direction changes often in applications such as loader work.
WELL PLACED CONTROLS
Simple and ergonomic transmission controls make it easy for anyone to operate this tractor. Controls are located within easy, natural reach so they're comfortable to use. The shuttle lever is mounted to the left-hand side of the steering column for easy, fingertip access, and the range and gear levers are on the right-hand console.
SIMPLE AND VERSATILE
The WORKMASTER advantage is clear. Its simple, high-productivity transmission provides all types of customers with the absolute best operating solution for every task.
Specifications
WORKMASTER 55 
Engine 
Make
S8000
Type
3-cylinder diesel
Displacement cu. in. (L)
179 (2.9)
Gross engine horsepower
54
PTO horsepower*
40 hp
Rated Engine Speed rpm
2.300
Emissions Tier 4B
CEGR + DOC
Transmissions 
Standard
12X12 Power Shuttle
3-Point Hitch 
Lift capacity @ 24" lbs. (kg.)
3,500 (1587)
Optional ram @ 24" lbs. (kg.)
4,000 (1814)
Hydraulics 
Rear remotes
2 or 3
Imp. pump gpm (L/min)
12.6 (48)
Service pump gpm (L/min)
7.6 (29)
PTO 
Base PTO RPM
540
Dimensions* 
Weight - Cab/4WD lbs. (kg.)
6,800 (3100)
Weight - ROPS/4WD lbs. (kg.)
-
Overall height - Cab roof in. (mm)
100.2 (2545)
Overall height - top of ROPS in. (mm)
-
Overall length - 4WD in. (mm)
154.1 (3915)
Wheelbase 4WD in. (mm)
83.6 (2123)
550LU/555LU Loader
 
Maximum Lift Height @ pivot pin (in)
131.3
Lift Capacity @ 800mm from bucket pivot pin (lbs.) to max height
2,425/ 3,153
Dump Clearance @ 45˚ (in)
98.2
Digging Depth (in)
7
Reach @ Max Lift at 45˚ (in)
24.7/ 41.5
Reach @ Ground Level (in)
86.8/ 80.9
Bucket Rollback Angle (deg)
42
Bucket Dump Angle (deg)
58/ 61
• Standard ○ Optional - Not Available

* 16.9x30 rear tires