New Holland T9.480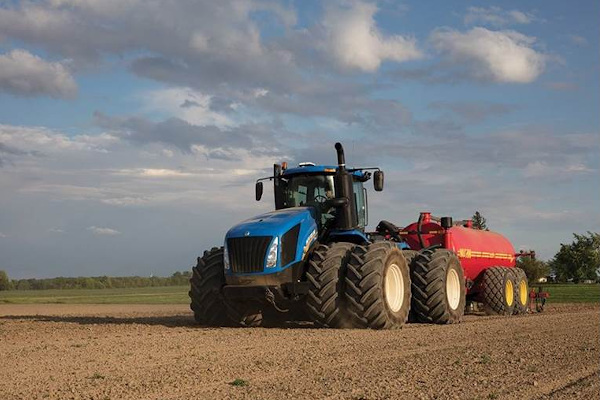 Double tap to zoom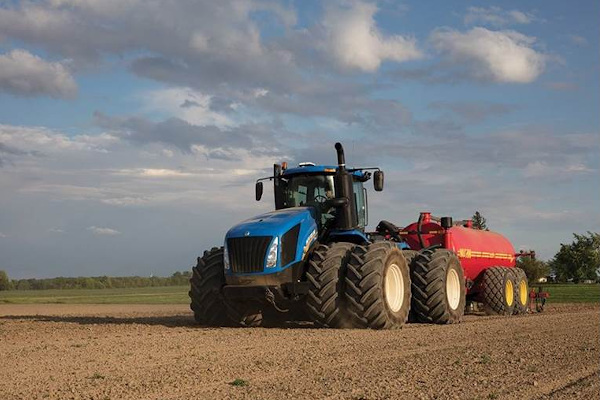 Features
ULTIMATE POWER
T9 power and torque are best-in-class, and tests prove it. You get up to 682 horsepower on tap to work with the world's largest and most power-hungry implements.
ULTIMATE COMFORT
Comfort Ride™ cab suspension ensures a smooth ride, and when combined with the ultra-comfortable seat, your operators deliver peak performance around the clock.
ULTIMATE EFFICIENCY
New Holland Precision Land Management™ helps you make the most of every pass to save you time, inputs and money, plus T9 engines keep your fuel costs low and your bank balance even stronger.
ULTIMATE VERSATILITY
T9 models range from 425 to 682 max hp, with traditional Ultra Command™ full powershift transmission or the NEW Auto Command™ CVT, in wheeled models or your choice of TWO SmartTrax™ designs.
Specifications
| | |
| --- | --- |
| Engine* | FPT Cursor 13 |
| No. of cylinders / Aspiration / Valves / Emission level | 6/ WT / 24 / Tier 4B |
| ECOBlue™ SCR HI-eSCR system (Selective Catalytic Reduction) | Standard |
| Approved biodiesel blend** | B5 |
| Displacement cubic in.(L) | 787 (12.9) |
| PTO Power Horsepower (hp) | 355 |
| Max. EPM horsepower - ISO TR14396 - ECE R120 CV hp (kW) | 462 (345) |
| Max. horsepower - ISO TR14396 - ECE R120 CV hp (kW) | 462 (345) |
| Rated EPM horsepower - ISO TR14396 - ECE R120 CV hp (kW) | 460 (343) |
| Rated horsepower - ISO TR14396 - ECE R120 CV hp (kW) | 420 (313) |
| Rated engine speed (rpm) | 2100 |
| PTO Power (rated @ 1,811 engine RPM / 1,000 PTO RPM)  | 404 (302) |
| Max. torque - ISO TR14396 lbs. ft. (Nm) | 1469 (1992) @ 1400 |
| Torque rise % | 40 |
| Viscous coupled cooling fan | Standard |
| Hydraulically driven cooling fan | - |
| Maximum Diesel capacity gal. (L) | 307 (1162) |
| DEF/AdBlue® tank capacity (Full to drained) gal. (L) | 42 (159) |
| Service interval (hours) | 600 |
| Transmission |   |
| IntelliShift™ system | Standard |
| Ground Speed Management system (GSM) | Standard |
| 16 x 2 Ultra Command™ Full-Powershift (40 kph) | Standard |
| Road Hi - Lo in 16th (gear) | Standard |
| Min. speed [mph (kph)] | 2.4 (4) |
| Electrical |   |
| 12 volt alternator amps | 200 |
| Battery capacity (CCA) | 2X1000 |
| Articulation angle (degrees) | 42 |
| Turning radius [in. (mm)] | 193 (4900) |
| Front and rear differential locks | Optional  |
| Hydraulics |   |
| Closed Centre Load Sensing (CCLS) | Standard |
| Main pump flow standard [gal. (L)] | 42 (159) |
| Main pump high flow option [gal. (L)] | 57 (216) |
| MegaFlow™ option pump flow Standard / High flow (Flow Split between left and right remotes) [gal. (L)] | 113 (428) |
| MegaFlow™ II option pump flow Standard / High flow (Total flow available across all remotes) [gal. (L)] | 113 (428) |
| Electronic Draft Control (EDC) | Standard |
| Remote valves |   |
| Type | Electro hydraulic |
| Max. no. rear valves | 8 |
| Rear Linkage | Optional  |
| Rear linkage category | IV-N / III |
| Max. lift capacity through the range (610 mm behind ball ends) lbs. (kg) | 20,000 (9071) |
| Rear PTO | Optional  |
| Brakes |   |
| Automatic exhaust brake | Optional  |
| Electronic park brake | Standard |
| Hydraulic trailer brakes | Optional  |
| Cab |   |
| SideWinder™ II armrest | Standard |
| Automatic climate control | Standard |
| Comfort Ride™ cab suspension | Optional  |
| Headland Turn Sequence (HTS) | Standard |
| A pillar Performance Monitor with enhanced key pad | Standard |
| IntelliView™ IV color monitor with ISO 11783 connector | Standard |
| IntelliSteer™ guidance complete | Standard |
| Optimum cab noise level EC 77/311 [dB(A)] | 74 |
| Weights |   |
| Shipping weight - Dual 710/70R42 (no rear linkage, PTO, or fuel) [lbs. (kg)] | 40,169 (18,220) |
| Max. operating weight [lbs. (kg)] | 49,500 (22453) |
| Dimensions |   |
| With rear tire size*** | 710/70R42 - Duals |
|  Overall length inc. front weight pack and rear drawbar [in. (mm)] | 295 (7493) |
|  Min. width across bar axle [in. (mm)] | 120 (3048) |
|  Overall height [in. (mm)] | 144.2 (3663) |
|  Wheelbase [in. (mm)] | 148 (3759) |
|  Ground clearance (depends on drawbar) [in. (mm)] | 17.4 (443) |
* Developed by FPT Industrial
** Biodiesel blend must fully comply with the latest fuel specification EN14214:2009 and operation is in accordance with operator manual guidelines