New Holland T7.290 HD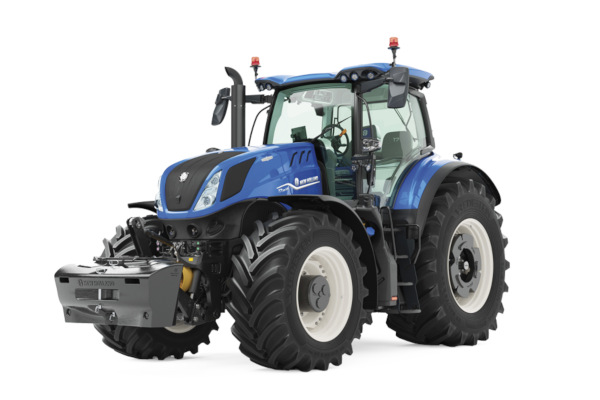 Double tap to zoom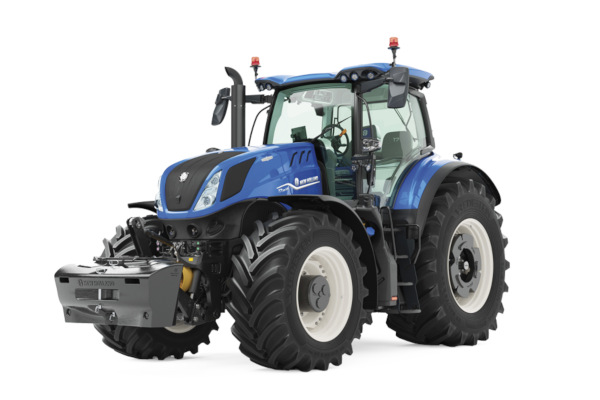 Features
A NEW BENCHMARK FOR SPACIOUS COMFORT
The NEW Horizon™ Ultra cab is all about space, with more glass, a wider door and added storage. And, at just 66dBA, this cab is the quietest you'll find.
PLM INTELLIGENCE™ TECHNOLOGY
T7 Heavy Duty tractors utilize the latest PLM Intelligence technology that allows you to use the advanced in-cab IntelliView™ 12 display for navigation, mapping, information sharing and fleet management.
POWER AND EFFICIENCY
Powered by the FPT Industrial ECOBlue™ HI-eSCR 2 Stage V NEF engine, the T7 Heavy Duty delivers up to 313 horsepower with a maximum torque available at a mere 1.400 rpm.
CONNECT QUICKER
Every T7 Heavy Duty tractor comes with MyPLM® Connect telematics standard for one year to stay in touch with machines at all times and utilize real-time data recording and sharing.
Specifications
MODEL
T7.290 HD
New Holland engine*
Nef
No. of cylinders / Aspiration / Valves
6 / eVGT / 4
Compliant with engine emissions regulations
Stage V
ECOBlue™ HI-eSCR 2 system (Selective Catalytic Reduction)
Standard
Fuel system - High pressure Common Rail
Standard
Approved biodiesel blend**
B7
Capacity cu. in (cu. cm)
410.57 (6728)
Bore and Stroke in (mm)
4.09x 5.2 (104x132)
Max. horsepower - ISO TR14396- ECE R120 kW/hp (CV)
212/290 (291.99)
Rated horsepower - ISO TR14396- ECE R120 kW/hp (CV)
199/270 (273.75)
Torque rise %
32
Reversible fan
Optional
Rated engine speed (rpm)
2100
Max. torque ISO TR14396 ft-lb (Nm)
880.65 (1194) @ 1400rpm
Diesel tank capacity Standard gal (L)
166.43 (630)
AdBlue tank capacity gal (L)
25.36 (96)
Service interval hours
750
Auto Command™ Continuously Variable Transmission
3 Transmission aggressiveness settings
Standard
Active StopStart function
Standard
Force base propulsion control
Standard
Auto Command™ Continuously Variable Transmission (31mph/50kph ECO)
Standard
Min. speed / Max. speed mph (kph)
0.03 / 31(50) @ 1600rpm
Electrical
 
12 Volt alternator Standard amps
200
Battery capacity CCA / Ah
1700 / 136
Axles
 
Terraglide™ front axle suspension
Standard
Steering angle (degrees)
55
Terralock™ functions (Auto Diff lock / Auto 4WD)
Standard
CustomSteer™ system
Optional
Hydraulics
 
Max. lift capacity at ball ends lbs (kg)
26526 (12032)
PTO
 
Auto Soft Start
Standard
Rear PTO Engine speed at 540 / 540E / 1000 / 1000E rpm
1930 / 1598 / 1853 / 1583
Front two speed PTO (1000rpm)
Optional
Front PTO Engine speed at 1000 / 1000E
1890 / 1585
Brakes
 
Electro Hydraulic park brake
Standard
Optional ABS braking system
Optional
Intelligent Trailer Brake system
Optional
Optional ABS SuperSteer™ system
Optional
PLM Intelligence™ system
 
PLM Intelligence™ system
Standard
IntelliView™ 12 color monitor
Standard
SideWinder™ Ultra armrest
Standard
CommandGrip™ handle
Standard
InfoView™ instrument cluster
Standard
CenterView™ Steering Display
Optional
IntelliSteer® guidance ready
Standard
PLM® Accuracy signals (PLM 1, PLM2, & PLM RTK / PLM RTK+)
Optional
PLM® Cygnus receiver
Optional
IntelliTurn™ with Headland turn sequencing II (HTS II) system
Optional
IntelliField™ guidance line sharing
Optional
MyPLM®Connect telematics (1st years subscription free)
Standard
Remote Assistance (1st years subscription free)
Standard
Processing & Connectivity Module (P&CM)
Standard
New Holland Remote Assistance
Standard
IntelliView™ Connect remote display
Standard
New Holland Breakdown Assist
Standard
ISOBUS III
Optional
CAB
 
16 LED lighting pack
Standard
24 LED 360 degree lighting pack
Optional
Comfort Ride™ cab suspension
Optional
Auto Comfort™ Active Climate Control, leather seat with seat belt
Optional
Auto Comfort™ Active Climate Control, Blue Power trim with seat belt
Optional
Instructors seat with seat belt
Standard
Luxury Pack (Leather Steering wheel and carpet)
Optional
Four way adjustment of SideWinder™ Ultra armrest
Standard
Telescopic steering wheel adjustment
Standard
170° front hood mounted and cab pillar rear facing cameras
Standard
Push button engine start/stop
Optional
Multi-Vent Air conditioning
Standard
Automatic climate control
Standard
Air recirculation filter
Standard
Large portable coolbox
Optional
Fender mounted external engine stop function
Standard
Tire pressure monitoring system (Up to 16 individual tires)
Optional
Optimum cab noise level - 77/311EEC (dB(A)
66
Weights
 
Minimum unballasted / shipping weights lb (kg)
23148 (10500)
Max. permissible weight at 31mph (50kph) (Class 4) lb (kg)
35274 (16000)