New Holland T6.160 Dynamic Command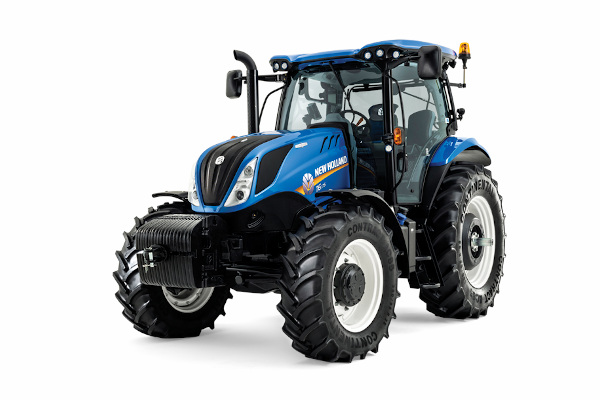 Double tap to zoom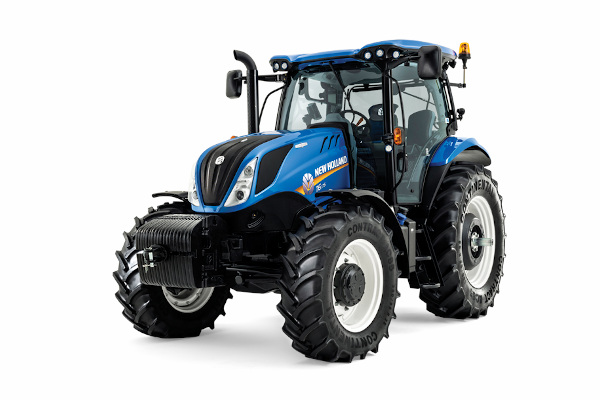 Features
POWERFUL PRODUCTIVITY
Choose from five models from 95 to 125 PTO hp with enormous 42% torque rise plus up to an additional 34 hp from Engine Power Management.
TAILORED FOR YOU
An endless list of options includes a front hitch and PTO (available with standard FWD only), a choice of transmissions, seats, and front axles, including three front-wheel-drive (FWD) axle choices or the economical heavy-duty 2WD axle.
COMFORTABLE HORIZON™ CAB
At New Holland, we believe a long, hard day in the field shouldn't feel like one. That's why we designed the Horizon™ cab for day-long comfort and productivity.
FLEXIBILITY GUARANTEED
The T6 has you covered, from haymaking to loader work and row-crop applications.
Specifications
MODEL
T6.160 Dynamic Command
Power
 
Engine Type
Turbo Diesel with High Pressure Common Rail with Electronic Fuel Delivery Control
Make / Model
Fiat Powertrain Technology (FPT) NEF
# of Engine Cylinders
6
Displacement cu. in. (L)
274 (4.5)
Valves per Cylinder
4
Rated Engine Speed rpm
2100
Aspiration
Turbo Charger with Air-to-Air Intercooled
Max Boosted Engine HP
165
Rated Engine HP
135
PTO HP
115
Engine Speed at PTO Speed 540/1000
1969 / 1893
Emissions Certification
Stage V/Final
Stage V Emissions System
ECOBlue™ HI-eSCR 2 System (Selective Catalytic Reduction; After Treatment only)
Diesel Fuel Tank Capacity gal. (L)
Standard Tank - 52.2 Gal (197.2), with Auxiliary Tank - 58.6 Gal (222
DEF (AdBlue®) Tank Capacity gal. (L)
10.4 Gal (39.5)
Service Interval eng. hours
 
Electrical
 
Alternator
150 Amp Std. on all models; 200 Amp optional
Battery
1300 CCA
ISO BUS Class 2 (Optional with Plus and Elite, Standard on AC)
Optional
ISO BUS Class 3 (Optional on Auto Command Tractors only)
Optional
Electro Command™ Transmission
 
Standard – Semi-Power Shift 16x16 mph (kph)
1.41-25 (2.27-40)***
Option 1 – With Creeper 32x32 mph (kph)
0.12-25 (.19-40)***
Option 2 - with AutoShift mph (kph)
1.41-25 (2.27-40)***
Option 3 – Economy w/ AutoShift 17x16 mph (kph)
1.67-25 (2.68-40)
Option 4 – Fast Mover w/ AutoShift 17x16 mph (kph)
Dynamic Command™ Transmission
 
Standard - 23 X 23 mph (kph)
–
Option 1 - 24 X 24 Economy 40 KPH mph (kph)
–
Option 2 - 24 X 24 50 KPH mph (kph)
–
Option 3 - Creeper for 40 KPH mph (kph)
–
Option 3 - Creeper for 40 KPH Economy mph (kph)
–
Option 4 - Creepr for 50 KPH mph (kph)
 
Auto Command™ Transmission
 
Standard Auto Command CVT mph (kph)
–
Optional Auto Command CVT mph (kph)
 
3 Point Hitch
 
Standard Lift Capacity - 80mm rams with 21.1 gpm fixed pump (Value) lbs. (kg)
8338 (3782)
Standard Lift Capacity - 80mm rams with 33.5 gpm CCLS pump (AC) lbs. (kg)
9214 (4179)
Optional Lift Capacity - 90mm rams with 29.9/33.5 gpm CCLS pump (Plus, Elite, AC) lbs. (kg)
Hydraulics
 
Fixed Displacement Implement Pump Flow - Value gpm (l/m)
21.1 (80)
Steering Pump Flow gpm (l/m)
12.4 (47)
CCLS Hydraulic Implement Pump Flow- Plus & Elite gpm (l/m)
29.9 (113)
CCLS Hydraulic Implement Pump Flow- Auto Command gpm (l/m)
33.5 (127)
Deluxe Rear Remote Options (N/A on Auto Command)
2 Mechanical Remotes Standard with 3 and 4 remotes Optional
Electro Hydraulic Rear Remote Options
3 Electro Hydraulic Remotes Standard on AC with 3 & 4 Optional on Elite, 4 on AC
Mid-Mount Valve Options
 
Front Axles
 
Dimensions on rear tires (1)
520/70R38
Overall length inc. front linkage to rear linkage in. (mm)
204.3 (5189)
Minimum width in. (mm)
89.8 (2280)
Height at center of rear axle to top of low profile cab in. (mm)
78 (1980)
Height at center of rear axle to top of standard cab in. (mm)
82.7 (2100)
Height at center of rear axle to top of Comfort Ride™ suspension cab in. (mm)
85.2 (2165)
Overall height of low profile cab in. (mm)
110.4 (2805)
Overall height of standard cab in. (mm)
115.2 (2925)
Overall height of Comfort Ride™ suspension cab in. (mm)
117.7 (2990)
Wheelbase: Standard 4WD axle in. (mm)
104 (2642)
Wheelbase: Terraglide™ suspended axle in. (mm)
105.7 (2684)
Wheelbase: SuperSteer™ axle in. (mm)
109.8 (2788)
Track width (min. / max.) in. (mm)
64.3 / 84 (1634 / 2134)
Ground Clearance in. (mm)
18.8 (478)