New Holland T4.100V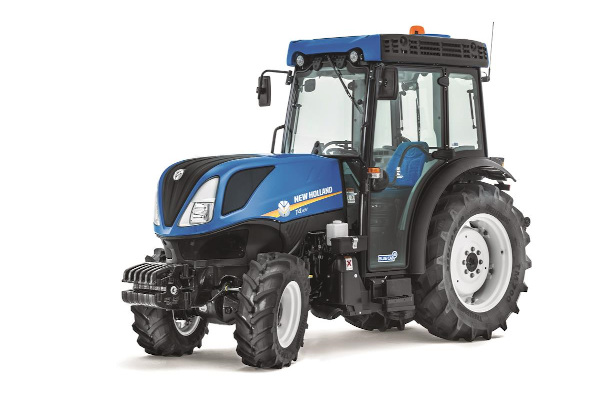 Double tap to zoom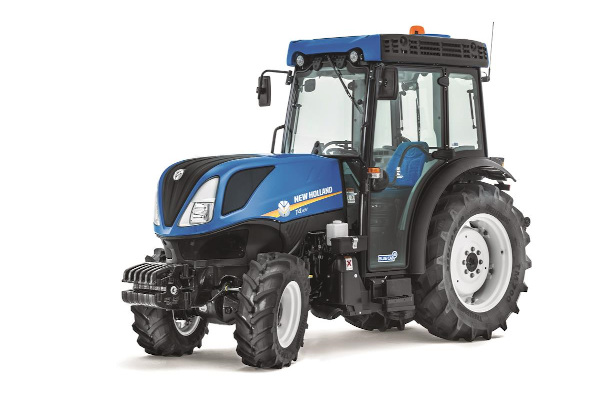 Features
AS NARROW AS 43.1 INCHES
With a width as narrow as 43.1 inches (depending on tire size), the T4V tractor fits in the tightest rows.
TIER 4A CERTIFIED
You get clean power from engines that are Tier 4A emissions certified, and range from 65 to 93 PTO horsepower.
NEW BLUE CAB™ 4
T4V tractors are now available with Level 4 protection from dust, aerosols and vapors.
FROM THE WORLD LEADER
New Holland is the world's leading supplier of narrow tractors so you know you are getting the advantages of the very best.
ENGINE
POWERFULLY EFFICIENT
T4V tractors are packed with a powerful, 207-cubic-inch, four-cylinder engine built by Fiat Powertrain Technologies (FPT). These engines are Tier 4A emissions compliant, using a Cooled Exhaust Gas Recirculation (CEGR) system and a Diesel Particulate Filter (DPF). This common-rail fuel-injected engine provides higher engine power density and enhanced fuel efficiency and delivers constant max power from 1,900 rpm up to 2,300 rpm to ensure you have the best combination of power and fuel economy. Additionally, the new constant engine rpm feature ensures your engine rpms remain constant even under changing loads for applications where a constant PTO speed is required.
TRANSMISSION
MORE TRANSMISSION CHOICES
Choose the transmission that best suits your needs.
16X16 SYNCHRO COMMAND™ TRANSMISSION
Choose the 16x16 Synchro Command™ transmission with either a synchronized mechanical shuttle or a convenient power shuttle for easy, clutch-free forward/reverse shuttling.
EASY SHUTTLING
The convenient, left-hand, column-mounted power shuttle lever leaves your right hand free to operate implements.
32X16 DUAL COMMAND™ TRANSMISSION A
32x16 Dual Command™ transmission is also available. It provides the added convenience of a push-button high/low speed adjustment and foot clutch-free gear changes using the de-clutch button while shifting.
Specifications
| | |
| --- | --- |
| Model | T4.100V |
| Power |   |
| Engine HP | 98 |
| PTO HP | 86 |
| Operator's platform | Cab or ROPS |
| Front Axle | 2WD or 4WD |
| Transmission Offering |   |
| Mechanical shuttle | 16x16 |
| Power shuttle | 16x16 or 32x16 |
| Three-point Hitch |   |
| Lift capacity @ 24" lbs. (kg) | 4,400 (1996) |
| Hydraulics |   |
| Rear remotes | 2 / 3 / 3 with Diverter |
| Steering & service gpm (L/Min) | 9.2 (35) |
| Implement pump gpm (L/Min) | 16.9 (76.8) |
| Opt. Implement pump (cab) gpm (L/Min) | 21.1 (80) |
| Weights & Dimensions (4WD ROPS) |   |
| Weight lbs. (kg) | 5,877 (2666) |
| Overall length in. (mm) | 148.8 (3779) |
| Min. Height to Cab in. (mm) | 91.9 (2336) |
| Min. Overall width in. (mm) | 43.1 (1094) |
| Min. Height to hood in. (mm) | 53.1 (1349) |
| Weights & Dimensions (4WD Cab) |   |
| Weight lbs. (kg) | 6,150 (2790) |
| Overall length in. (mm) | 148.8 (3779) |
| Min. Height to Cab in. (mm) | 94.5 (2400) |
| Min. Overall width in. (mm) | 43.1 (1094) |
| Min. Height to hood in. (mm) | 53.1 (1349) |
| PTO |   |
| Base PTO | 540/540E |
| Optional | 540/1000 |